Unofficial Biography of His Royal Highness Prince Devawongse Varopakarn

His Royal Highness Prince Devawongse Varopakarn: the Father of Thai Diplomacy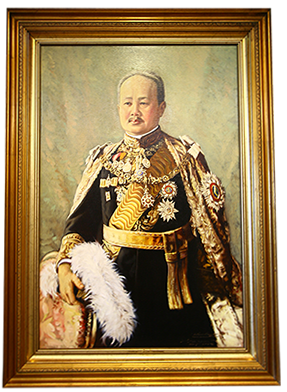 His Royal Highness Prince Devawongse Varopakarn (the ancestral lineage of the 'Devakula' family), whose original name was His Royal Highness Devan Uthayavongse, was born in the Grand Palace on 27 November 1858 (B.E. 2401), being the 42nd son of His Majesty King Mongkut Rama IV and the second son of Princess Piyamavadi Sri Bajarindra Mata.

His Royal Highness Prince Devawongse Varopakarn assumed the office of Minister of Foreign Affairs on 12 June 1885 (B.E. 2428) at the age of 27 and served in that capacity until 28 June 1923 (B.E. 2466), making him the youngest and the longest serving Minister of Foreign Affairs in Thailand's history, with 38 years and 16 days in office in total. During his ministership, the most important contribution His Royal Highness made was the safeguarding of Thailand's sovereignty through the signing of treaties with the United Kingdom and France while strengthening friendly relations with other powers including Russia and Germany.

His Royal Highness Prince Devawongse Varopakarn played a seminal role in furthering the conduct of Thai foreign affairs in many areas such as the restructuring and modernization of the Ministry, obtaining royal permission to establish a "Foreign Affairs Pavilion" making the Ministry of Foreign Affairs the first in the Kingdom to have proper office space for the conduct of its affairs instead of the residence of the Minister, and the establishment of Thai diplomatic missions overseas including the Siamese Legation to the Court of St. James in London.
Apart from improving the working methods and the administration of affairs in the Ministry, Prince Devawongse Varopakarn was also attentive to furthering the qualifications and capabilities of the Ministry of Foreign Affairs' personnel by constantly seeking to improve their knowledge and skills in earnest. His Royal Highness established the first English tutoring centre for civil servants, clerks and employees of the Ministry, formalizing official correspondence used in the civil service as well as personally overseeing the selection of students with high potential to go and study abroad.
His Royal Highness was also multitalented, being an expert in various academic disciplines running the gamut from Thai language, Magahi language, English language, mathematics, herbal medicine as well as astrology. His Royal Highness came up with the model for modern Thai calendar, based on the universal form of solar calendar, and coined the suffixes "Akom" and "Ayon" for every month in the calendar by combining the name of each zodiac sign to distinguish which month has 30 or 31 days
Prince Devawongse Varopakarn passed away on 28 June 1923 (B.E. 2466) at the age of 64. King Rama VI and the Queen presided over Prince Devawongse's funeral ceremony held at the Sanam Luang Palace courtyard on 14 December 1923 (B.E. 2466).